Feralpi heat is warming the city of Lonato del Garda thanks to district heating technology. The project saw the Feralpi Group partnering the energy multinational Engie to implement the innovative heating system, based on the recovery of heat generated by the water used for the steel cooling process. This circular project focuses on recovery and decarbonisation in line with the United Nations 2030 Agenda Sustainability Development Goals.
Heat from the Feralpi Siderurgica premises in Lonato is channelled along a network to provide sustainable heating for internal company buildings and public buildings, including the town hall, schools and a care home, in addition to private buildings in the city. The project has numerous environmental benefits, including a decrease in CO2 and savings on other heating sources with higher impact.
This is an initiative supporting the community that is capitalising on the circularity aspect, by making heating available for the benefit of the community.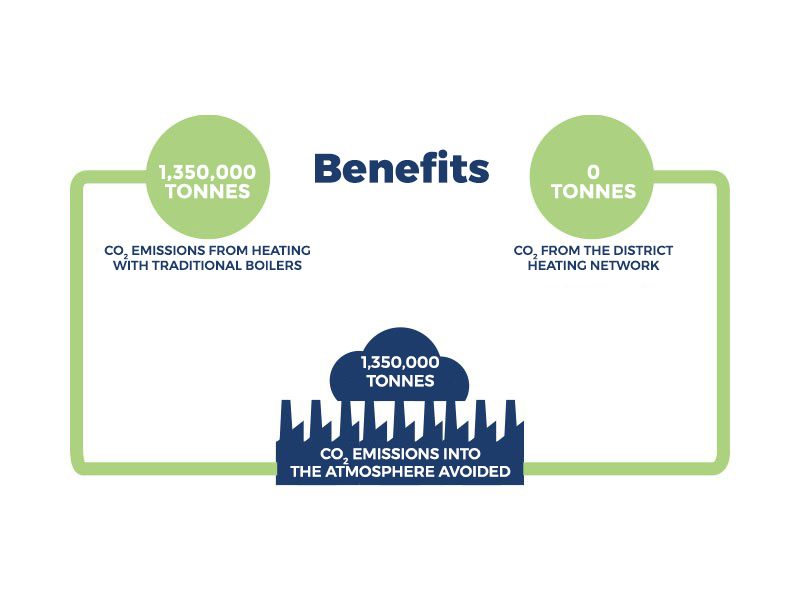 Not only is growing in line with sustainability criteria the specific responsibility of companies, it is also an objective that is actually achievable thanks to technological innovation guided by a clear vision. With the Lonato del Garda district heating project we are recovering heat no longer lost to the atmosphere, addressing the need to configure production cycles in accordance with circular methods with a reduction in consumption and corresponding environmental impact, including CO2 emissions.
Maurizio Fusato, factory manager at Feralpi Siderurgica
The inauguration at the end of 2019 was wonderful. More than 200 pupils from schools in Lonato del Garda attended and, after the district heating project was presented, they helped to paint a mural on the wall of the council sports centre using Airlite paint. This is a natural powder-based product which, when combined with water and titanium dioxide, is activated when it comes into contact with the light, breaking down pollutants such as nitrogen oxide, sulphur oxide, benzene, formaldehyde and carbon monoxide into salt molecules.
Feralpi and district heating have a bond that goes way back, because this was a project already implemented in 2013 in the Saxony district of Riesa in Germany, where the ESF ElbeStahlwerke Feralpi facility is located. At the time it was the first plant run on heat coming from an electric arc furnace through Organic Rankine Cycle technology.